Digg Bury Recoreder 0.2 Beta Just Released!
Over at the
Ajaxonomy blog
they just announced the release of Ajaxonomy's Digg Bury Recorder version Beta 0.2. This new release has a number of new features and fixes some issues that occurred with version Beta 0.1.
Below is the list of new features and bug fixes.
New Features


Captures all buries for all stories


Graphs diggs to buries


Big Fixes


Recorder not capturing all buries


The first new feature above is one of my favorites. The tool now captures buries from all stories posted to
Digg
. The great thing is that you no longer have to leave the application running over night and you won't miss a bury because the application was not started!

The second feature shows a graph of diggs and buries. So, now you can see a graph showing how many diggs you had at the time of each bury. This was created using
Google's Chart API
.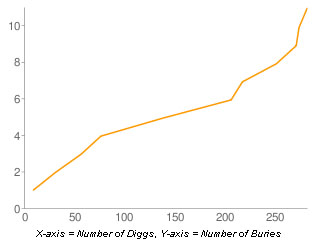 For fixes this release fixes a bug that was causing some buries to not be captured. This was due to server delays and browser issues. The fix has been tested and appears to be working, but if you notice an issue contact us using the Contact button on this blog.
You can check out the new version of the application at
http://www.ajaxonomy.com/buryrecorder/
.